It's Saturday morning, and I am doing what any mom would be doing: weightlessly floating in a pitch-black tank of 1,000 pounds of salt water. Okay, so it's not what every mom is doing, but every mom and person with a pulse should try this revolutionary (even though it has been around and available since the 1950s) float therapy. A friend of mine works at the True REST Float Spa in Roseville and mentioned the concept to me a few months ago when I was experiencing some pinching in my hip from a running injury. I wish I would have gone then, but time management led me to go on a Saturday in February when my baby was napping.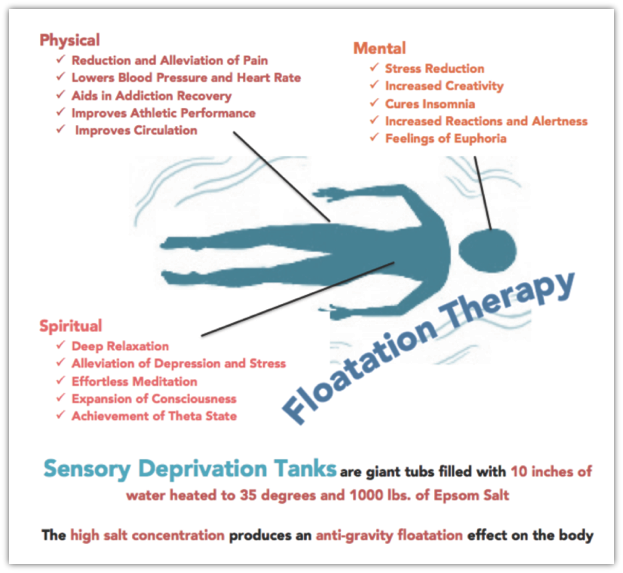 I pulled into the lot, making sure I was wearing clothes that I was comfortable to get back into because I have heard the experience is just THAT relaxing. As I entered the waiting area, adorned with crystals and surrounded by ambient music, I was asked to fill out a waiver while the receptionist brought me some decaffeinated tea, which was a very pleasant touch considering it was cold and rainy outside. I should mention that the waiver had a number of warnings to folks with epilepsy, kidney disorders, and those who may experience claustrophobia. I have none of those conditions, though I was nervous that I may develop claustrophobia while inside a sensory deprivation tank alone.
After I filled out the waiver, me and two guys who had appointments to float at the same time (different rooms) were asked to remove our shoes and put on the supplied flip flops. We were given a tour of the facilities, starting at the after-float room, which included an oxygen bar, complimentary tea, meditative coloring books, and more crystals.
The next stop was what I will call the "prep station" which has a range of delicious organic lotions, and hair dryers for people exiting their float rooms. After the general area tour, we were asked to sit in a thin room with a giant tv on the wall in front of us. We were told we would watch an informational video and then see a number of relaxing images to get our mind ready to float. The video was slightly campy, probably to keep our attention, and included a lot of precautions and basics on how to operate the float and what to expect. The video that followed looked like the old pre-programmed Windows screensaver with the shapes that draw over and over on themselves. I felt ready to get in my tank.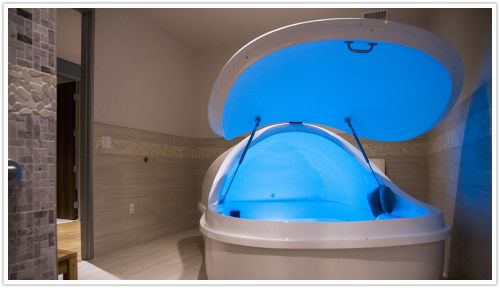 The receptionist led us to what would later be my room, where she showed us our pods and directed us how to use the room. We were told to shower before getting into the pod using the products that they offered, and then to step into the pod which contained 1,000 pounds of Epsom salt in 11 inches of water. We were told that we had the option to leave the pod open, as well as leave the light that shone at the bottom of the pod on, if there was any lingering fear of darkness and being trapped.
After our float was finished, we were told to shower again, only using conditioner on our hair. The receptionist and the two guys left me in that room, moving into each of theirs. I undressed, showered, and stepped into my tub.
Immediately, my legs floated to the surface as I sat back, trying to hold myself still before closing the pod. I'm a risk-taker if you couldn't tell. The ambient music was still on, as was my light until I pushed myself over to the button to turn it off. I was in complete darkness, and after 10 minutes, the music shut off and it was silent. 50 minutes to go. As I laid there, I tried some of the positions recommended in the video for people with stress in their shoulders (hands over my head), though my hands moved naturally to my sides within minutes. I tried to count my breaths, in order to relax, but it's never really been my thing, and instead, I found myself thinking through a to-do list.
At one point I forgot that I was floating because I truly felt all of the pressure off of my body, including all the spots that I usually lay on when falling to sleep. By the last 5 minutes, when the music came on again, I was less relaxed and more ready to get out, as I started to feel the salt on my skin. I fumbled along the wall of the pod for the button to turn on the light because I had no clue where I was in the pod. At this point, I felt nauseous from going in circles and not being oriented. I found the button, and the door to open the pod.
The most prominent moment was stepping out of the tub. I felt so relaxed that I might describe my headspace and my body as feeling groggy, and tired. I stepped wobbly to the shower to condition my hair, wash my body, dry off, and get dressed. I'm a sucker for good lotion so I took advantage of their lemon and lavender lotion before heading to the after-float room. I drank lots of water and was told by the receptionist that using oxygen afterward wakes up the brain cells. I felt like I needed that, and took in the Doterra-infused oxygen. It did make me feel more awake.
Upon leaving, I chatted with the receptionists about the benefits of floating, which include relaxation, pain relief, and better sleep, though the details of physical and mental benefits are on their website. Some insurance companies even cover float therapy as part of physical therapy. I really liked the experience and would like to go more regularly, because apparently, that feeling of tired goes away after you float a number of times and your body gets used to the effects. It relaxed me, which was my goal, but maybe it relaxed me too much; I left my own shoes at the spa and left wearing their flip flops.
---
About Inspired Wellness
We are a wellness movement aimed at cultivating greatness in all areas of life. We believe that everything is connected and that having the body of your dreams shouldn't come at the price of your mental and emotional health. You CAN have it all; you just need some determination, grit and the desire to truly change your life!
Catch us locally in sunny Sacramento CA inspiring lives at our wellness center with fitness, nutrition and lifestyle programs, or online doing the same thing with our new online training site + community coming soon!
Want more content like this delivered straight to your inbox? Get a weekly dose of inspiration by subscribing here.
Let's get social! Come connect with us in these places:
Free Wellness Group: facebook.com/groups/iwagaccgroup
Facebook: facebook.com/theinspiredwellness
Instagram: instagram.com/inspirewellness