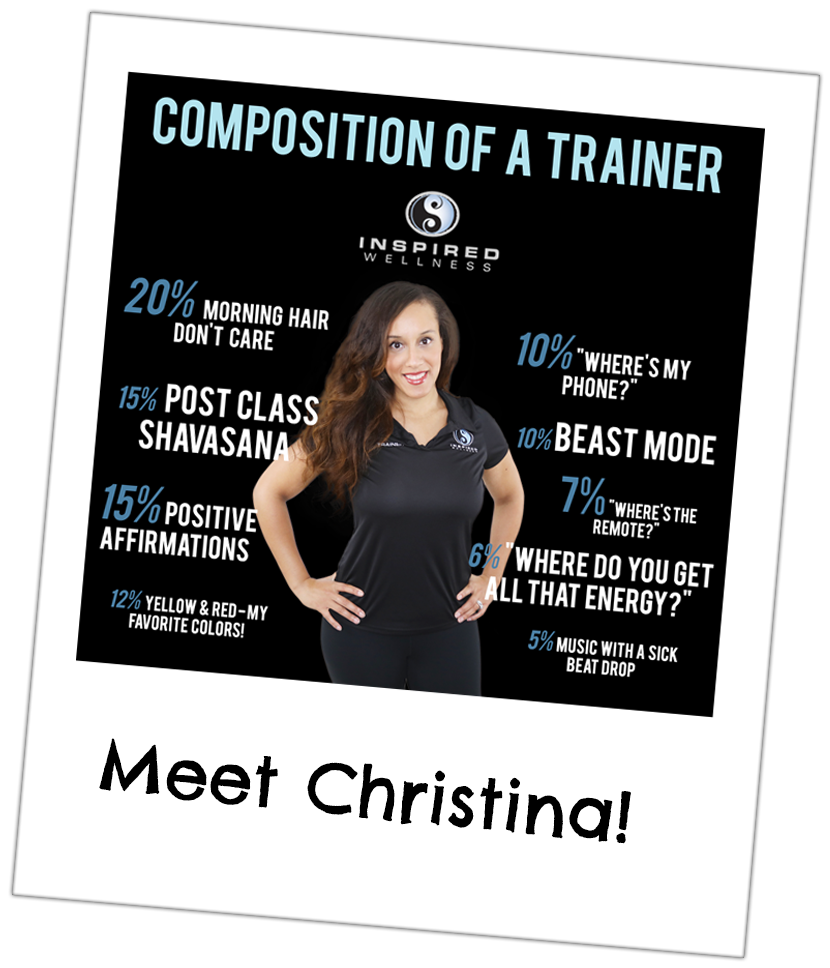 Christina Sanghera – Co-Owner of Inspired Wellness
Christina is a Certified Personal Trainer, Wellness Coach and Mompreneur on a mission who once struggled just to get through the day. Her lifestyle was a merry-go-round of unhealthy habits, and when she was later diagnosed with an autoimmune thyroid disease, it all came full circle and she knew something had to change.
It was this moment in her life that inspired countless hours of education, training and soul searching. Having experienced firsthand what it feels like to suddenly lose your health and wellbeing and to struggle daily, her unique point of view allows her to offer sound advice that's rooted in empathy from having experienced many of the ailments she now helps women overcome.
In the beginning of 2018 she welcomed a healthy, vibrant baby girl after multiple unexplained miscarriages years prior. Her birth was a testament to the tireless effort of reclaiming health one step at a time.
Be it holistic "bio-hacking", an intense HIIT routine or downtime with a good book or podcast, Christina now dedicates her life to inspiring others and immersing herself in natural, sustainable health.Through real food nutrition, exercise and self care she helps women from all walks of life navigate their health, achieve their goals and thrive.
Christina's Wellness Profile:
What Sets Inspired Wellness Apart?
Inspired Wellness is hard to sum up in just a sentence or two because it really is a game changer. It is more than a selection of programs, it is a way of life. A community of amazing people with a common thread: the desire to THRIVE instead of just "get through life".
Overall Wellness Philosophy:
Health is not one-size-fits-all, and in order to make lasting change we must learn to work with our body instead of against it. Our body is capable of really incredible things, and we've simply got to give it tools to achieve them in our unique way.
Favorite Workout Tunes:
Anything that's at least 130bpm, preferably more on the Top 40 remix spectrum. I can also get down to the old school grooves!
Latest Accomplishment:
Learning to declutter, stay organized and live life with less stress.
Teaching Style In 3 Words:
Energetic, Uplifting, Fun
Favorite Exercises:
Up-downs, jump rope and anything TRX.
Hobbies:
Listening to podcasts, playing the guitar, singing, traveling, reading, Netflix marathons and making memories with great people.
Favorite Wellness Quote:
"The risk to remain tight in a bud is greater than the risk it takes to blossom".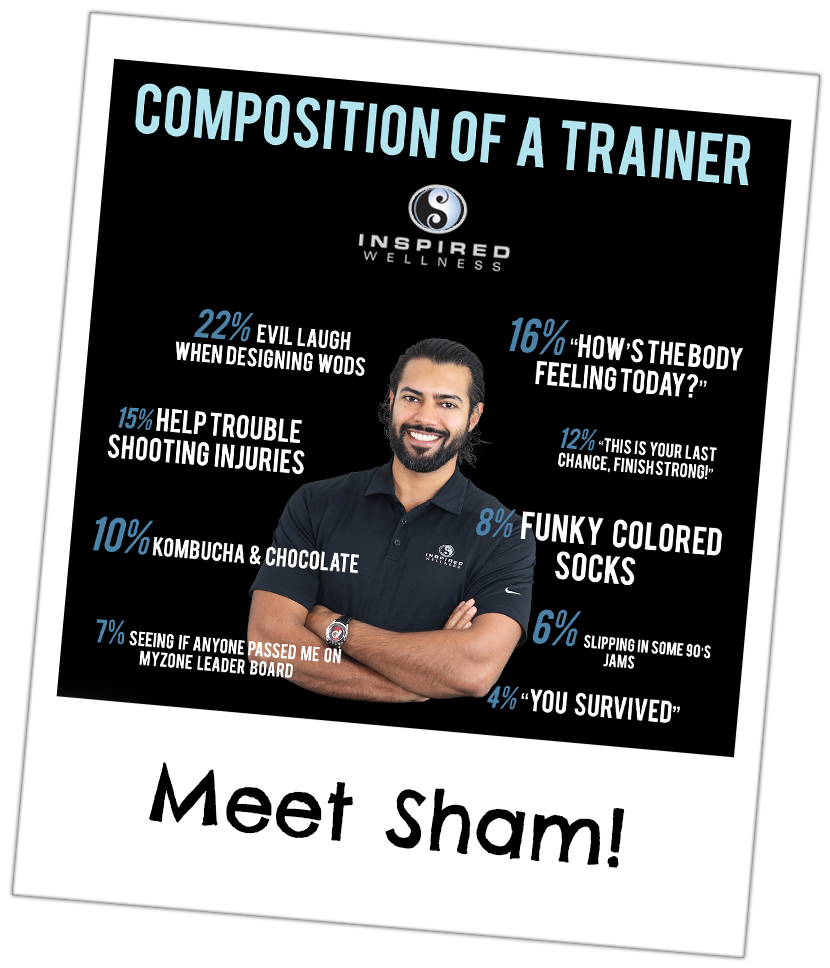 Sham Sanghera – Founder & CEO of Inspired Wellness
Sham grew up in a small central California town named Atwater. Battling weight issues at a young age and being exposed to numerous problems within his own family and their history (obesity, diabetes, cancer, high blood pressure, smoking, and alcoholism) gave him the desire to take control of his own health and wellness early on in his life. This drive for change led Sham to excel scholastically at a young age, which helped establish the foundation for his health and wellness diversification.
With Sham's strong initiative to strive to be his best, he graduated in the top 5% of all California high school students with his next goal being the completion of advanced collegiate work. This led him to the University of California Davis where he obtained a Bachelor of Science degree in Exercise Biology and Nutrition as well as completing the American Dietetics Association requirements in Nutrition. Through his education Sham has developed the philosophy that health and wellness is established through proper nutrition, fitness, and psychological well-being and not through medication and endless medical problems. Sham takes a natural and holistic, common sense approach to rebuilding his clients' well-being from the ground up.
Sham, dubbed a "Life Coach" and "Wellness Specialist" by many of his clients, has used various methods to connect with his clients and find the deep underlying issues which cause them to not be satisfied with their lives. Sham's techniques are grounded in being able to educate his clients and provide them with the tools to create and maintain healthy lifestyle changes. These tools form accountability between Sham and his clients in all aspects of their overall wellness. Sham has a lifelong love of fitness and health and believes that the failures of health care require us to adopt our own self care habits and be responsible for ourselves.
After years of study, a litany of classes, multiple certifications, professional memberships, and continued education, Sham's focus is being concerned primarily with his client's health challenges by uncovering the root cause. It is his belief that most traditional medicine chooses to mask symptoms by prescribing medications and not finding the true inception of the problem. Sham does not diagnose or treat conditions but instead he helps identify and repair issues with his clients so that they may regain optimal health and wellness. Sham's approach is simple at finding the complex things which prevent us from achieving the body of our dreams. The goal is to restore the body to the balance and harmony it was intended to enjoy.
Sham launched Inspired Wellness to begin offering an all encompassing approach to obtaining optimal wellness, promoting lifelong changes and permanent results…not quick fixes.
Sham's Mission Statement
"To educate individuals who are ready to make a change by providing professional, personal, and accessible service using a passion to create awareness and provide knowledge. I desire to change lives by enabling clients to achieve goals and maintain healthy lifestyles. I strive to help my clients achieve a higher level of fitness and well-being through inspiring wellness. My vision is to be the unparalleled leader in the training, education, and motivation of wellness by fulfilling the highest standards for professionalism, dependability and integrity in my business and personal relationships."
Experience:
Since 2001, Sham has acquired extensive experience in the health and wellness industry. He has worked in the fields of weight loss, athletics, rehabilitation, and corporate wellness. His entire educational process was geared towards helping others reach their full potential. Having worked as a private trainer since 2001, Sham does what he loves best: educating others on living a healthier lifestyle.
– Participated in a Sports Nutrition internship with Dr. Liz Applegate who teaches the largest nutrition course in the nation at U.C. Davis and has served as the nutritionist for the Sacramento Kings and the Oakland Raiders.
– With Dr. Applegate's assistance, developed sports nutrition educational materials for the intercollegiate athletic teams at U.C. Davis. In addition, helped design the first personal training program at U.C. Davis through the Activities and Recreation Center.
– Volunteered for the Sacramento City Unified School District's Nutrition Services where he developed creative ways to educate children. He wrote monthly articles on nutrition for the school newspaper, attended school service programs and fairs where he coordinated a nutrition booth to inform parents and children, designed games, pamphlets, and recipes to help interest children in nutrition. In addition to writing monthly articles for children, Sham also authored various wellness articles for the Sacramento Capitol Weekly Newspaper.
– Has worked with doctors helping patients/clients discover healthy lifestyle habits to help reduce illnesses and diseases and to remove them from medications and (in most cases) be taken completely off medications for blood pressure, cholesterol, diabetes, obesity, depression, anxiety, allergies, polycystic ovaries, and joint pain to name just a few. In addition, Sham has worked with physical therapists and chiropractors helping to rehabilitate patient/clients from former injuries, accidents, surgeries and the aches and pains that are associated with such issues.
– Frequently educates employers, employee benefit consultants, and health and wellness professionals on proven strategies to reduce insurance costs through a healthier workforce. He has held management positions in corporate wellness companies, physician practices, and in managed care organizations. Sham has also been a mentor to other fitness trainers and personally trained these individuals to better their skills and careers.
– Along with currently teaching seminars covering nutrition, wellness, and lifestyle coaching, Sham also sponsored events such as Curtis Park's "Music in the Park" where he volunteered educational information and displayed sample fitness classes to the public. Sham's skills helped establish him as a highly sought-after personal trainer. In 2010, 2011, 2012 and 2014 he was voted one of the Top 5 Trainers in the Greater Sacramento Area by KCRA's "A-List."
– Sham's extensive experience has allowed him to work successfully with clients attempting to drop 10 lbs., 50 lbs., 100 lbs. or more. These clients were in need of building and strengthening muscle and/or creating an overall toned and lean body. Sham has also helped clients who have overcome challenges like cancer, double transplants, multiple surgeries, complete reliance on medications and much more.
– From beginners to world class athletes, Sham has helped all types of individuals. His professionalism, top-quality physical fitness training and an unparalleled educational experience is unlike any other trainer and has established him as a true wellness guru.
Recognitions:
KCRA "A-List" – Top 6 Fitness Trainer in the Greater Sacramento Area – 2015
KCRA "A-List" – Top 3 Boot Camp in the Greater Sacramento Area – 2015
KCRA "A-List" – Top 5 Fitness Trainer in the Greater Sacramento Area – 2014
WEGO Health Activist Awards – Nominated "Best Kept Secret" – 2013
KCRA "A-List" – Top 5 Fitness Trainer in the Greater Sacramento Area – 2012
Past & Current Education:
Bachelor of Science – Exercise Biology (Emphasis on Exercise Physiology)
Bachelor of Science – Nutrition
University of California Davis
Specialized courses include
Introduction to Motor Learning and the Psychology of Sport and Exercise
Analysis and Control of Human Movement
Exercise Metabolism
Environmental Effects on Physical Performance
Growth and Development in Human Performance
Exercise and Aging in Health and Disease
Sport Psychology
Nutritional Assessment
Developmental Nutrition
Nutrition and Immunity
Control of Food Intak
Certifications:
National Academy of Sports Medicine Certified Personal Trainer (NASM)
National Council on Strength and Fitness (NCSF)
Apex Certified Fitness Professional
Online Coaching Specialist
Professional Organizations:
Sham's Wellness Profile:
What Sets Inspired Wellness Apart?
Inspired Wellness helps you unlock your full potential by touching on all facets of your lifestyle. IW also thinks outside of the box to help you solve the root cause of issues.
Favorite Workout Tunes:
I have eclectic taste in music but I enjoy fast, hard hitting songs from Rock, Rap, EDM, Hip Hop, Trap and more!
Latest Accomplishment:
Only Trainer/Boot Camp in the Sacramento area to be voted in the Top of KCRA list 5 years in a row!
Teaching Style In 3 Words:
Confident, Encouraging, Education based.
Favorite Exercises:
Plyos, Sprints, Ropes
Hobbies:
Our bodies were meant to move. I love staying active as much as I can with my wife, family and friends. You can usually find me on the local track doing sprints or bleachers. I love going on hikes and just being outside in nature. You may also find me on the Aussie Rules Football field playing "footy" or training the Sacramento Suns Football Club. I am a foodie/wine lover at heart and enjoy traveling and uncovering new experiences. When I am inspired and have the time I love to cook!
Favorite Wellness Quote:
"Discipline is deciding between what you want now and what you want most."